Service Finds Humpback Chub Swimming In The Right Direction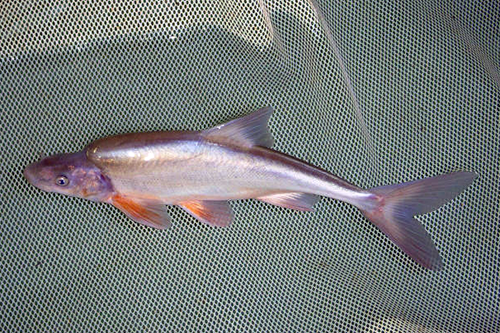 On October 18, 2021, the U.S. Fish and Wildlife Service (Service) issued a final rule reclassifying the humpback chub (Gila cypha), a fish endemic to portions of the Colorado River basin, from endangered to threatened under the Endangered Species Act (ESA). The Service attributed the chub's status upgrade largely in part to modifications in how reservoir managers are operating their facilities, and the management of nonnative predators.
The chub was first listed as an endangered species in 1967 under the Endangered Species Preservation Act, a predecessor to the ESA. In 1974, the Service issued a final rule listing the humpback chub as an endangered species under the ESA. Five years later, the Service issued its first recovery plan for the humpback chub. Revised or amended recovery plans were subsequently issued in 1990 and 2002.
In its recent final rule, the Service explained that the potential stressors impacting the humpback chub include: decreased or inconsistent river flows, predatory nonnative fish, warm water temperature, and food supply scarcity. However, in light of various efforts to address these potential stressors, and "after assessing the best available information," the Service concluded in the final rule that "the humpback chub no longer meets the Act's definition of an endangered species." Among the efforts by federal and state agencies that have benefitted the species are management and removal of nonnative predatory fish. The Service also concluded that despite the improved status, the humpback chub was still in danger of extinction in the foreseeable future, and thus could not be completely removed from the list of threatened and endangered species.
In addition to changing the status of the humpback chub, the Service also issued a 4(d) rule prohibiting the "take" of the species except in limited circumstances. For example, among other authorized activities, the final rule states that incidental "take" is allowed under the 4(d) rule if it results from efforts to reduce or eliminate nonnative fish from habitats adjacent to, or occupied by, humpback chub. Incidental take is also permitted if it results from catch-and-release angling activities targeting other species, so long as the angler is also complying with applicable federal, state, and tribal fishing regulations.
Partner

Ben Rubin is chair of Nossaman's Environment & Land Use Group. Ben assists developers, public agencies, landowners and corporate clients on a variety of complex land use and environmental matters. He counsels clients on matters ...
Nossaman's Endangered Species Law & Policy blog focuses on news, events, and policies affecting endangered species issues in California and throughout the United States. Topics include listing and critical habitat decisions, conservation and recovery planning, inter-agency consultation, and related developments in law, policy, and science. We also inform readers about regulatory and legislative developments, as well as key court decisions.
Stay Connected

RSS Feed
Categories
Archives
View All Nossaman Blogs