Service Launches Comprehensive Review of Grizzly Bear ESA Status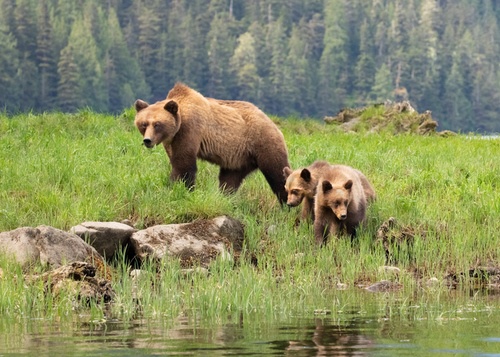 On Tuesday, January 14, 2020, the U.S. Fish and Wildlife Service (Service) published a federal register notice that it will be commencing a comprehensive study of the status of the Grizzly bear (Ursus arctos horribilis). This study, called a 5-year status review, could lead to a change in the bear's status as a protected species under the Endangered Species Act (ESA). This 5-year review was spurred by a lawsuit filed by the Center for Biological Diversity, which alleged that the Service failed to complete the required status review on time. The Service and Center for Biological Diversity subsequently settled the case, providing that the 5-year status review for the bear must be completed and published by March 31, 2021.
The Grizzly bear was originally listed as a threatened species under the ESA in 1975. Its numbers have dwindled over the intervening years to approximately 700 bears living in the Greater Yellowstone Ecosystem area, and an additional 1100 bears in four small populations elsewhere. As reported here, the Greater Yellowstone Ecosystem population was delisted in 2017. The decision to delist the population was challenged in litigation, resulting in a U.S. district court reversing that decision in 2019. The district court's decision was subsequently appealed to the U.S. Court of Appeals for the Ninth Circuit, where the appeal is still awaiting oral argument.
In the most recent 5-year review of the species, conducted in 2011, the review notes that the Grizzly once ranged from Alaska to central Mexico, but had dwindled so significantly by the 1930s that it was estimated to inhabit only 2% of its prior range. The most recent recovery plan for the Grizzly dates from 1993. The Service itself acknowledged that the existing recovery plan does not reflect the best available and most up-to-date information on the species. The Service's notice states that a 60-day public comment period is open, during which the public may submit supplemental information on the Grizzly, its biology, current status, and habitat. The Service's announcement also specifies that comments should be received no later than March 16, 2020 to ensure that the comment is considered in the Service's species status review.
Nossaman's Endangered Species Law & Policy blog focuses on news, events, and policies affecting endangered species issues in California and throughout the United States. Topics include listing and critical habitat decisions, conservation and recovery planning, inter-agency consultation, and related developments in law, policy, and science. We also inform readers about regulatory and legislative developments, as well as key court decisions.
Stay Connected

RSS Feed
Categories
Archives
View All Nossaman Blogs