Federal Court Orders Service to Take a Third Look at Bi-State Sage Grouse Listing Status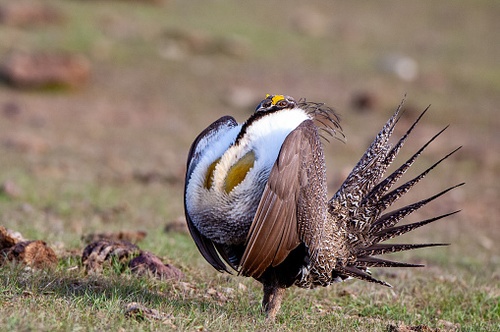 On May 16, 2022, the U.S. District Court for the Northern District of California overturned the U.S. Fish and Wildlife Service's (Service) March 31, 2020 withdrawal (2020 Withdrawal) of a proposed Endangered Species Act (ESA) listing and section 4(d) rule for the "bi-state population" of the greater sage grouse (Bi-state Grouse). The Bi-state Grouse lives along the California-Nevada border within six population management units (PMUs) monitored by the Service.
The Service proposed the Bi-state Grouse for listing as threatened in 2013, then later withdrew that proposal in 2015 (2015 Withdrawal). Desert Survivors and others filed suit in the Northern District of California, and the court overturned the 2015 Withdrawal. The 2020 Withdrawal was a result of the Service's review of the listing proposal on remand.
Plaintiffs challenged three basic aspects of the 2020 Withdrawal: (1) the Service's failure to use best available science; (2) improper determination by the Service that the Bi-state Grouse was not threatened throughout a significant portion of its range; and (3) improper application of the Service's Policy for the Evaluation of Conservation Efforts (PECE Policy).
While the court upheld some aspects of the 2020 Withdrawal, the court found that the Service failed to adequately explain its ultimate decision to withdraw the proposed listing. Specifically, the court held that the Service failed to explain why extirpation of some PMUs within the overall Bi-state Grouse population did not result in a threat to the population as a whole, that the agency failed to explain why the two PMUs forecasted to be extirpated did not represent a significant portion of the species' range, and that the 2020 Withdrawal did not comply with the PECE Policy because the Service relied on implementation of an "unproven and experimental" conservation measure (which was one of several conservation measures) as among the bases for the 2020 Withdrawal.
As a result of the holding, the 2020 Withdrawal is vacated and the proposed listing has been remanded to the Service, who must issue a new listing decision.
Partner

Rebecca Hays Barho focuses her practice on natural resource law, with particular emphasis on the Endangered Species Act (ESA), the National Environmental Policy Act (NEPA), the Migratory Bird Treaty Act (MBTA), the Clean Water Act ...
Nossaman's Endangered Species Law & Policy blog focuses on news, events, and policies affecting endangered species issues in California and throughout the United States. Topics include listing and critical habitat decisions, conservation and recovery planning, inter-agency consultation, and related developments in law, policy, and science. We also inform readers about regulatory and legislative developments, as well as key court decisions.
Stay Connected

RSS Feed
Categories
Archives
View All Nossaman Blogs