Conservation Group Sues USFWS over Protections for Two California Fish Species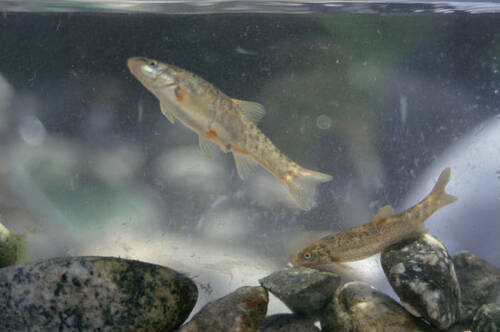 Last week, the Center for Biological Diversity (CBD) filed suit against the U.S. Fish and Wildlife Service in the U.S. District Court for the Central District of California, alleging that the agency violated the Endangered Species Act (ESA) when it failed to timely determine whether the Santa Ana speckled dace (hinichthys osculus ssp.) and the Long Valley speckled dace (Rhinichthys osculus ssp.) warrant listing as endangered or threatened species.
The Santa Ana speckled dace is a tiny fish endemic to southern California river systems, largely restricted to headwater tributaries. Similarly, the Long Valley speckled dace is a tiny fish endemic to the Long Valley volcanic caldera, east of Mammoth Lakes, in Mono County, California. According to the complaint, both species are at risk of extinction due to urban development, climate change, and impacts from dams and/or river channelization.
In May 2020, CBD petitioned the USFWS to list the Santa Ana speckled dace under the ESA, and the following month filed a separate petition for the Long Valley speckled dace. Over a year later, the USFWS issued positive 90-day findings indicating that the petitions to list each species presented "substantial scientific or commercial information indicating that the petitioned actions may be warranted." The complaint alleges that given the positive 90-day findings, the agency was required under the ESA to publish 12-month findings for the Santa Ana and the Long Valley speckled dace by May and June of 2021, respectively. As such, CBD alleges that the USFWS is in violation of the ESA and requests that the court provide injunctive relief compelling the USFWS to publish in the Federal Register its 12-month listing determinations for each species by a specific date.
Nossaman's Endangered Species Law & Policy blog focuses on news, events, and policies affecting endangered species issues in California and throughout the United States. Topics include listing and critical habitat decisions, conservation and recovery planning, inter-agency consultation, and related developments in law, policy, and science. We also inform readers about regulatory and legislative developments, as well as key court decisions.
Stay Connected

RSS Feed
Categories
Archives
View All Nossaman Blogs