FWS Lists Last Known Population of Rare Butterfly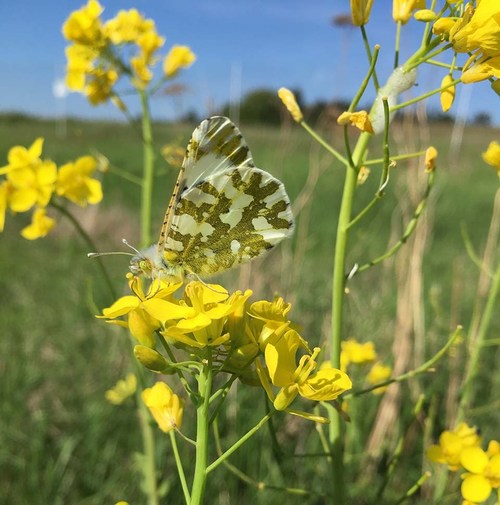 On May 5, 2020, the United States Fish and Wildlife Service (FWS) decided to list the island marble butterfly (Euchloe ausonides insulanus) as an endangered species under the Endangered Species Act (ESA). The FWS decision also designated approximately 812 acres of critical habitat for the species on the south end of San Juan Island, San Juan County, Washington.
Until 1998 when the species was rediscovered on San Juan Island, the island marble butterfly was thought to be extinct because no known occurrences of the species were documented after 1908. In 2006, the FWS issued a 12-month finding for the butterfly describing just five island marble butterfly populations in two areas on San Juan Island and adjacent Lopez Island. However, the FWS's listing decision states that only the population that occupies the coastal shoreline, lagoons, sand dunes and adjacent prairieland in San Juan Island National Historical Park has been observed in recent years.
The FWS states in its determination that the island marble butterfly is threatened by habitat loss and degradation attributable to plant succession and invasion by plants that displace larval host plants; browsing by black-tailed deer, European rabbits, and brown garden snails; storm surges and development. The butterfly is also threatened by predation by native spiders and nonnative wasps, incidental predation by black-tailed deer, and vulnerabilities associated with small population size and environmental and demographic stochasticity, and other chance events that increase mortality or reduce reproductive success.
The determination also describes threats to the species from climate change, noting the likelihood that increased sea level rise and storm surges associated with climate change could result in direct mortality and habitat loss. However, the determination concludes that further study is needed to determine whether climate change will also affect survival of the island marble butterfly by resulting in phenological asynchrony, which is a mismatch in timing between the butterfly's breeding season and the maturation of the host plants that provide a place for the butterflies to lay eggs and food resources for larvae.
The determination further states that any collection of the island marble butterfly by butterfly collectors (which was already prohibited within the National Park, and will now be prohibited by Section 9 of the ESA) could have very harmful effects on species' survival, given its small population size.
The FWS's determination goes into effect on June 4, 2020.
Nossaman's Endangered Species Law & Policy blog focuses on news, events, and policies affecting endangered species issues in California and throughout the United States. Topics include listing and critical habitat decisions, conservation and recovery planning, inter-agency consultation, and related developments in law, policy, and science. We also inform readers about regulatory and legislative developments, as well as key court decisions.
Stay Connected

RSS Feed
Categories
Archives
View All Nossaman Blogs