Regulatory Developments and Linear Infrastructure
Linear infrastructure projects, including oil and gas pipelines, electric transmission lines and transportation, have faced a number of regulatory challenges over the past year, starting with last summer's Endangered Species Act (ESA) amendments. Some of these challenges stem from changes in regulatory schemes or adverse court holdings, while others stem from uncertainty of pending ESA listing decisions and other actions.
In our recent webinar concerning Adapting Linear Infrastructure Projects to Changing Regulatory Frameworks, we discussed the path for energy providers to move forward and reduce the risk that projects may be delayed or scrapped down the road. One of the topics we covered was the 2019 regulatory amendments to the Endangered Species Act (ESA). In the following video clip from the webinar, we review some of the revised definitions and updated language in the new version of the regulations.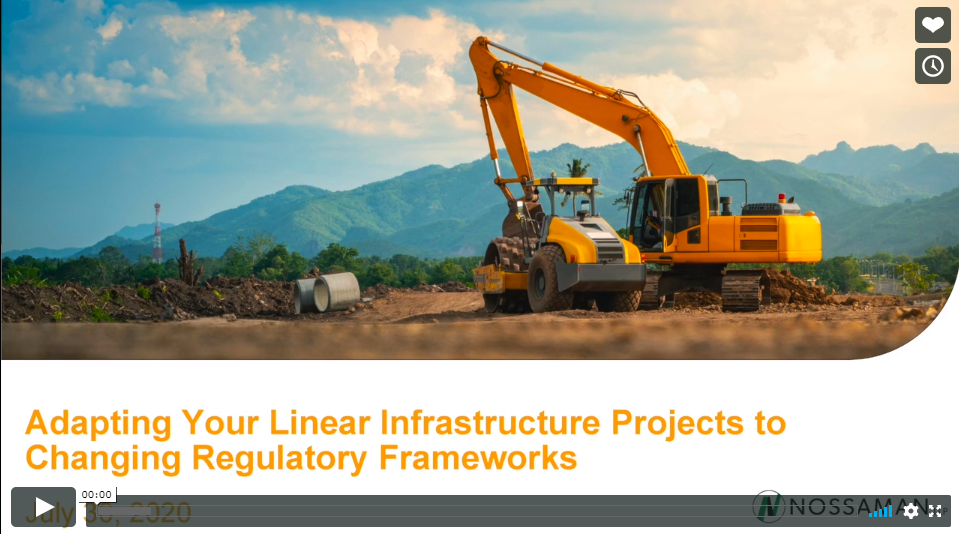 Partner

Brooke Marcus is a natural resources lawyer focused on assisting the renewable energy sector with maintaining compliance with environmental laws. She is go-to counsel for matters involving the Endangered Species Act (ESA), the ...

Partner

Rebecca Hays Barho focuses her practice on natural resource law, with particular emphasis on the Endangered Species Act (ESA), the National Environmental Policy Act (NEPA), the Migratory Bird Treaty Act (MBTA), the Clean Water Act ...
Nossaman's Endangered Species Law & Policy blog focuses on news, events, and policies affecting endangered species issues in California and throughout the United States. Topics include listing and critical habitat decisions, conservation and recovery planning, inter-agency consultation, and related developments in law, policy, and science. We also inform readers about regulatory and legislative developments, as well as key court decisions.
Stay Connected

RSS Feed
Categories
Archives
View All Nossaman Blogs