Congress Urges Action on Monarch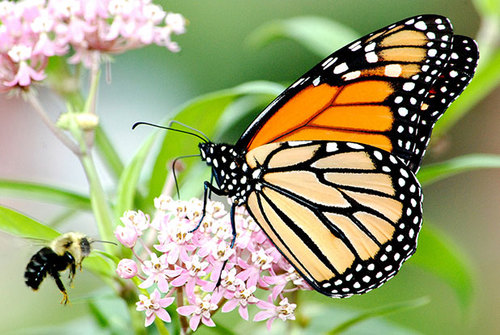 On June 29, 2021, fourteen members of Congress delivered a letter to Secretary of the Interior Deb Haaland urging the U.S. Fish and Wildlife Service (Service) to use its authority to list the monarch butterfly (Danaus plexippus) on an emergency basis under section 4 of the Endangered Species Act (ESA). The letter, which garnered only Democratic support, notes that the population of western monarchs has sunk to under 2,000 individuals and states that immediate action is necessary to prevent extinction of the species.
Section 4 of the ESA authorizes the Service to immediately place a species on the list of threatened and endangered species where there exists an emergency posing a "significant risk to the well-being" of the species. When the Service exercises its emergency listing authority, the listing is effective for 240 days following publication of the emergency listing rule. The emergency listing expires 240 days after promulgation of the emergency listing rule, and the species is divested of the ESA's protections at that point, unless the Service completes the typical listing process during that timeframe. The Service has not yet signaled whether it will act on the letter, but any emergency listing would include the entire range of the species because the ESA does not allow the listing of a distinct population segment of monarchs.
On December 17, 2020, the Service published its finding that listing the monarch was warranted but precluded due to other higher priority species. The environmental community has challenged this finding and litigation currently is underway. The Service has indicated it would propose to list the monarch in Fiscal Year 2024.
Partner

Brooke Marcus is a natural resources lawyer focused on assisting the renewable energy sector with maintaining compliance with environmental laws. She is go-to counsel for matters involving the Endangered Species Act (ESA), the ...

Partner

Rebecca Hays Barho focuses her practice on natural resource law, with particular emphasis on the Endangered Species Act (ESA), the National Environmental Policy Act (NEPA), the Migratory Bird Treaty Act (MBTA), the Clean Water Act ...
Nossaman's Endangered Species Law & Policy blog focuses on news, events, and policies affecting endangered species issues in California and throughout the United States. Topics include listing and critical habitat decisions, conservation and recovery planning, inter-agency consultation, and related developments in law, policy, and science. We also inform readers about regulatory and legislative developments, as well as key court decisions.
Stay Connected

RSS Feed
Categories
Archives
View All Nossaman Blogs